Trucking companies are highly regulated by federal and state laws.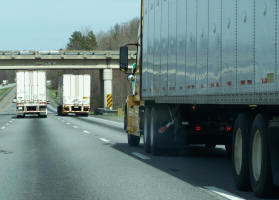 Smith & Griffith, LLP are experienced in handling truck accidents and the serious injuries and deaths they cause. Many accidents occur when truck drivers become fatigued by exceeding their allowed driving hours. Tractor trailer accidents account for the most serious injuries as well as many deaths on the highways today.
Trucking companies and commercial carriers have insurance adjusters and investigators on call 24 hours a day to protect their interests in accidents. If you or a loved one has a serious injury or wrongful death claim from a tractor-trailer or commercial trucking accident, let us put our experience to work to protect you.
In any injury, early treatment and legal consultation will preserve evidence and protect your right to a fair recovery for personal injury, property damage, lost wages, and medical bills.