A person who negligently operates a vehicle is required by law to pay for any and all allowable legal damages he or she causes. All operators of vehicles must drive with "reasonable care under the circumstances." If such care is not used and an accident occurs, they are responsible for all damages.
I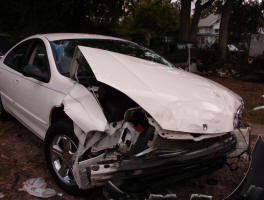 f you have been injured through the carelessness, negligence or irresponsible behavior of another driver, you probably have a valid personal injury claim. It is important to preserve the evidence by taking photographs of injuries, the scene, skid marks, location of the automobiles after impact, both automobiles (showing the extent and location of the damage and impact to both), etc. Our investigators can assist you with this and we will guide you through your case to see that you are fairly reimbursed and paid for your medical bills (past and future), lost wages, loss of earning capacity, permanent impairment, disability, emotional distress, pain, suffering, and other damages. Because the legal system provides you with a limited time within which to pursue your claim, you should contact a lawyer immediately.
Unrepresented persons are unfamiliar with claims and the litigation process. Signing the wrong papers could mean you have settled for less than you deserve and preclude you from seeking additional monies (insurance coverage) that you may have been available to you. You should not settle your case until you receive the needed medical treatment. You need an experienced lawyer to evaluate your case considering all the circumstances. Because of 28 years of combined legal experience, we know the pitfalls of settling to quickly.
We sue drunk drivers. Many accidents involve alcohol and drugs. DUI drivers should held be liable for punitive damages. Under South Carolina law you may be entitled to punitive damages against a reckless, willful or grossly negligent driver, such as a drunk driver, to punish him and deter him from future like conduct. We know the law and we aggressively pursue punitive damages.
Additionally, road defects, low road shoulders and road construction (particularly uneven lanes) can also cause tractor trailer, motorcycle and automobile accidents. It is important to take pictures of the scene, any pavement edge drops, skid marks, uncut grass or signs that may have blocked either driver's view, or other evidence at the scene as soon as possible, if not immediately. Many times the South Carolina Department of Transportation (SCDOT) will repair the defective road or shoulder condition shortly after an accident. Pavement or road shoulder edge drops should be measured and photographed with a tape measure showing the measurement.
Injuries may also occur due to tire separation or by airbag malfunction. These cases may or may not involve other vehicles. If you or a loved one has been injured in a multiple or single car accident that could have been caused by tire separation or an airbag malfunction, please contact us as soon as possible and retain possession of your vehicle.
In any injury, early treatment and legal consultation will preserve evidence and protect your right to a fair recovery for personal injury, property damage, lost wages, and medical bills.