At the Law Offices of Smith & Griffith, LLP we are a law firm dedicated to protecting the rights of injury victims. We represent personal injury clients who have been injured in all areas related to personal injury and workers' compensation, including the following:


G.W. King Smith John P. Griffith
Concentration in Auto Accidents Concentration in Workers Compensation

Workers' Compensation

Auto Accidents

Tractor-Trailer Accidents

Nursing Home Neglect and Abuse Injuries

Motorcycle Accidents

Other Serious Personal Injuries and Wrongful Death

Dog Bite Injuries

Unguarded or Defective Machine Injuries

Social Security Disability

Insurance Claims
We believe that all injury victims should have excellent legal representation. We will take decisive and strategic actions to get the best results for you.
Our law firm is a partnership of professional corporations focused on providing you with top notch legal representation and customer service. Your attorneys will focus his attention on your personal injury or workers' compensation claim. Our team prepares cases to obtain the best results.
We believe that aggressiveness, strategy, and creativity are key elements in negotiating the settlement that you deserve. If we cannot settle your case, then your attorney can file a personal injury or workers compensation lawsuit for you and fight for your rights in court. Our personal injury and workers' compensation attorneys have the experience, skills, talent, passion, and resources to give you the best quality legal representation. Once you retain us as your injury lawyers, we are accessible to you by phone, fax or e-mail.
Because we work for you, we will always consult with you regarding major decisions in your case. In addition to our attorneys, we have our support staff and investigators available to ensure that we can always provide you with excellent service.
We take your injury very seriously. Smith & Griffith, LLP represents clients from all over the Upstate of South Carolina, as well as throughout the State of South Carolina. As your legal representation, we promise you that we will fight for your rights to compensation and a proper recovery. Many of our clients come to us from Anderson, SC, as well as the surrounding towns of Pendleton, Easley, Homeland Park, Starr, Iva, Abbeville, Ware Shoals, Due West, Belton, Honea Path, Greenville, Piedmont, Spartanburg, Clemson, Walhalla, Greer, Fountain Inn, Taylors, Townville, Newry, Fair Play, Liberty, Union, Pickens, Central, Norris, Six Mile, Seneca, Greenwood, Donalds, Williamston, Piedmont, Pelzer, Westminster, Simpsonville, Mauldin, Travelers Rest, Mountain Rest, Dacusville, Six Mile, Due West, Woodruff, Powdersville, West Union, Calhoun Falls, Clinton, Duncan, Lyman, Wellford, Pelham, and Laurens. We also have or have had many clients in Anderson County, Oconee County, Greenville County, Pickens County, Greenwood County, Union County, Spartanburg County, Richland County, Lexington County, Charleston County, Horry County, Darlington County, Lancaster County, Chester County, Chesterfield County, Florence County, Aiken County, Colleton County, Beaufort County, Newberry County, and Laurens County.
Our law firm is conveniently located at 1102 North Main Street, just prior to entering downtown Anderson, SC.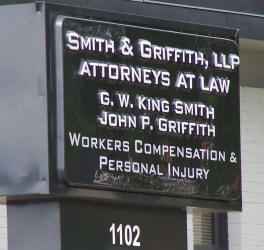 If you or someone you love has been seriously hurt in a personal injury accident or on the job, please call us right away for a FREE, no obligation consultation.
Tractor-trailer, motorcycle, SSA, SSD, PTSD, post traumatic stress disorder, RSD, CRPS, fibromyalgia, WC, SCWCC, WCC, claim, hearing, workers compensation attorney, South Carolina Workers Compensation Commission, TTD, PPD, TPD, comp rate, average weekly wage, LTD, STD, job injury, work injury, carpal tunnel, CTS, repetitive trauma injury, repetitive motion injury, course and scope of employment, Oconee County, Greenwood, nursing neglect, nursing home neglect, work comp, work comp attorney, atty, wc atty, South Carolina Workers Compensation Commission lawyer, workers comp, workers comp attorney, workers comp lawyer, out of work, mediation, statewide, federal court, South Carolina Federal District Court, Circuit Court, Court of Common Pleas, nip points, unguarded nip points, unguarded machine, unguarded machinery, calendar machine, unguarded calendar, calendar guard, press guard, unguarded press, OSHA, DHEC, Martindale-Hubbell, AV, dog attack, rabbies, fall at work, injury at work, on the job injury, fall on the job, accident on the job, work accident, work injury, Commissioners, employer, employee, claimant, workers compensation claimant, statute of limitations, denied claim, insurance claim, denied insurance claim, denied coverage, UIM, UM, BI, PD, bodily injury, underinsured motorist, uninsured motorist, coverage, life insurance, contested, cancer insurance, cancer policy, Williamston, Greer, Simpsonville, Mauldin, Travelers Rest, Donalds, Ware Shoals, Ninety-six, Six Mile, Seneca, Walhalla, Hodges, Assisted Living Neglect, earning capacity, representation, legal representation, legal issue, wrongful death, loss of consortium, accidental death claim, accidental death policy, death claim, Form 50, Form 52, Form 15, Form 17, Form 40, first report of injury, accident report, Griffith Law Firm, PA, impairment, permanent impairment, impairment rating, permanent impairment rating, time out of work, airbag, tire separation, arbitration clause nursing home, Furman attorney, Citadel attorney, Loyola attorney, Cumberland attorney, liability, workman, workers comp attorney sc, workers comp lawyer sc, workers compensation attorney sc, workers compensation lawyer sc, workers comp attorney Anderson sc, workers comp lawyer Anderson sc, work comp attorney sc, work comp lawyer sc, work comp attorney Anderson sc, work comp lawyer Anderson sc, workers compensation attorney anderson sc, workers compensation lawyer Anderson sc, disability attorney Anderson sc, disability lawyer Anderson sc, dog bite lawyer Anderson sc, dog bite lawyer sc, dog bite attorney Anderson sc, dog bite lawyer Anderson sc, Auto Accidents lawyer sc, Trailer Accidents lawyer sc, Nursing Home Neglect lawyer sc, Personal Injury lawyer sc, Social Security Disability lawyer sc, Motorcycle Accidents lawyer sc, insurance claim lawyer sc, wrongful death lawyer sc, LTD lawyer Anderson sc, Auto Accidents lawyer Anderson sc, Trailer Accidents lawyer Anderson sc, Nursing Home Neglect lawyer Anderson sc, Personal Injury lawyer Anderson sc, Social Security Disability lawyer Anderson sc, Motorcycle Accidents lawyer Anderson sc, insurance claim lawyer anderson sc, wrongful death lawyer Anderson sc, Auto Accidents attorney Anderson sc, Trailer Accidents attorney Anderson sc, Nursing Home Neglect attorney Anderson sc, Personal Injury attorney Anderson sc, Social Security Disability attorney Anderson sc, Motorcycle Accidents attorney Anderson sc, insurance claim attorney anderson sc, wrongful death attorney Anderson sc, unguarded machine attorney sc, unguarded machine lawyer sc, unguarded machine attorney Anderson sc, unguarded machine lawyer Anderson sc, denied claim lawyer sc, denied claim attorney sc, denied claim lawyer Anderson sc, denied claim attorney Anderson sc,
workers comp attorney South Carolina, workers comp lawyer South Carolina, workers compensation attorney South Carolina, workers compensation lawyer South Carolina, workers comp attorney Anderson South Carolina, workers comp lawyer Anderson South Carolina, work comp attorney South Carolina, work comp lawyer South Carolina, work comp attorney Anderson South Carolina, work comp lawyer Anderson South Carolina, workers compensation attorney anderson South Carolina, workers compensation lawyer Anderson South Carolina, disability attorney Anderson South Carolina, disability lawyer Anderson South Carolina, dog bite lawyer Anderson South Carolina, dog bite lawyer South Carolina, dog bite attorney Anderson South Carolina, dog bite lawyer Anderson South Carolina, Auto Accidents lawyer South Carolina, Trailer Accidents lawyer South Carolina, Nursing Home Neglect lawyer South Carolina, Personal Injury lawyer South Carolina, Social Security Disability lawyer South Carolina, Motorcycle Accidents lawyer South Carolina, insurance claim lawyer South Carolina, wrongful death lawyer South Carolina, LTD lawyer Anderson South Carolina, Auto Accidents lawyer Anderson South Carolina, Trailer Accidents lawyer Anderson South Carolina, Nursing Home Neglect lawyer Anderson South Carolina, Personal Injury lawyer Anderson South Carolina, Social Security Disability lawyer Anderson South Carolina, Motorcycle Accidents lawyer Anderson South Carolina, insurance claim lawyer anderson South Carolina, wrongful death lawyer Anderson South Carolina, Auto Accidents attorney Anderson South Carolina, Trailer Accidents attorney Anderson South Carolina, Nursing Home Neglect attorney Anderson South Carolina, Personal Injury attorney Anderson South Carolina, Social Security Disability attorney Anderson South Carolina, Motorcycle Accidents attorney Anderson South Carolina, insurance claim attorney anderson South Carolina, wrongful death attorney Anderson South Carolina, unguarded machine attorney South Carolina, unguarded machine lawyer South Carolina, unguarded machine attorney Anderson South Carolina, unguarded machine lawyer Anderson South Carolina, denied claim lawyer South Carolina, denied claim attorney South Carolina, denied claim lawyer Anderson South Carolina, denied claim attorney Anderson South Carolina
Legal Disclaimer
Site Map